John Christie, M.D., Ph.D.
---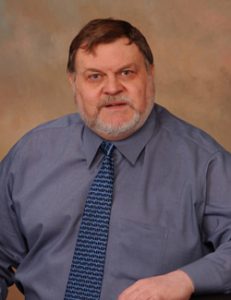 Professor
Department of Pathology
Brody School of Medicine
Brody Building, 7S10
Mail Stop 642
600 Moye Boulevard
Greenville, NC 27834
Office: 252-744-5007
Fax: 252-744-1889
jchristie@vidanthealth.com
---
Education
Fellowship: Harvard School of Public Health (Tropical Public Health)
University of Texas Medical Branch (Infection and Immunology)
University of Texas Medical Branch (Medical Microbiology)
Residency: University of Texas Medical Branch
Doctorate: University of Texas Medical Branch, M.D.
Graduate: Rutgers, The State University of New Jersey, M.S., Ph.D.
Undergraduate: Muhlenberg College, Allentown, PA, 1966
Board Certification
American Board of Pathology, Anatomic Pathology
American Board of Pathology, Clinical Pathology
American Board of Pathology, Medical Microbiology
Research Interests
Pathology and clinical microbiology of infectious diseases
Representative Publications
Christie JD. Test Utilization for Residents: Case 3 An HIV-positive patient with fever and rash. © 2015 College of American Pathologists; © 2015 Association of Pathology Chairs. Online Module released April, 2015.
Rimawi RH, Carter Y, Ware T, Christie J, Siraj D. Use of voriconazole for the treatment of Paecilomyces lilacinus cutaneous infections: Case presentation and review of published literature. Mycopathologia 175:345-349. 2013.
Christie JD. "Stat" – Multiplex polymerase chain reaction. Amer J Clin Pathol. 139:7-8. 2013. (editorial).
Ashraf MS, Swinker M. Augustino KL, Nobles D, Knupp C, Liles D, Christie JD, Ramsey KM: Outbreak of Mycobacterium mucogenicum bloodstream infections among patients with sickle cell disease in an outpatient setting. Submitted to Infection Control and Healthcare Epidemiology. 33:1132-1136. 2012.
Christie JD, Garcia LS: Emerging parasitic infections. Clin Lab Med. 2004 Sep;24(3):737-772
Cook PP, Catrou PG, Christie JD, Young PD, Polk RE. Reduction in broad-spectrum antimicrobial use with no improvement in hospital antibiogram. J Antimicrob Chemo. 2004 May;53(5):853-9.