Md A. Motaleb
---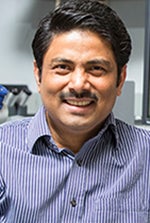 Professor
BS, (Honors), University of Dhaka
MS, University of Dhaka
PhD, Osaka University
Phone: 252-744-3129
Fax: 252-744-3535
Email: motalebm@ecu.edu
---
Research
Lyme disease, caused by Borrelia burgdorferi, is the most prevalent tick-borne disease placing an increasing burden on public health. Lyme disease is bad—the illness is highly debilitating, and the patients can be bed-ridden and dysfunctional for long periods of time. In addition to Borrelia burgdorferi, spirochetes cause several major diseases in humans such as syphilis, leptospirosis, and periodontitis. These diseases pose significant public health problems throughout the world.
Borrelia burgdorferi can invade almost any tissue and survive and cause disease in the host for years, and thus serve as an excellent model for the study of persistent, invasive pathogens.
Spirochetes periplasmic flagella and motility are fundamentally different from other bacteria but remains poorly understood. Furthermore, the cyclic-di-GMP-mediated regulatory mechanisms involving Borrelia burgdorferi physiology and pathogenesis remains elusive. We use functional genomics, genetics, mouse and tick-mouse models of Lyme disease to study the bacterial virulence mechanisms with special emphasis on the cyclic-di-GMP signaling system, regulatory mechanisms the spirochete uses to control bacterial migration within and between the hosts, and regulation and biosynthesis of periplasmic flagella.
Pathogenic spirochetes are becoming antibiotic-resistant, however, the mechanisms involved are poorly understood. Thus, there is a need to better understand bacterial virulence mechanisms and develop alternative targets for anti-bacterial agents. Our long-term goals are to develop small molecule pharmacological agents to prevent bacterial transmission and therefore, the Lyme disease. Notably,our data indicate that the periplasmic flagella are essential for spirochete motility, which in turn is required for host infection and bacterial transmission. Consequently, these studies can lead to applications in structure-based drug design to disrupt the assembly of the periplasmic flagella, therefore blocking bacterial dissemination and preventing the spread of spirochetal diseases. Alternatively, a pharmacological agent that block a unique spirochetal signaling system can be developed to prevent the spirochete's transmission and therefore, the disease.
---
Selected Publications
Yunjie Chang, Ki Hwan Moon, Xiaowei Zhao, Steven J. Norris, Md A. Motaleb, Jun Liu. Structural insights into flagellar stator-rotor interactions. eLife 2019;8:e48979. PMID:31313986. See highlights in Nature Reviews: https://www.nature.com/articles/s41579-019-0262-x.pdf 
Moon KH, Zhao X, Manne A, Wang J, Yu Z, Liu J, Motaleb MA. Spirochetes flagellar collar protein FlbB has astounding effects in orientation of periplasmic flagella, bacterial shape, motility, and assembly of motors in Borrelia burgdorferi. Molecular Microbiology. 102(2): 336-348. 2016. PMID: 27416872. Journal Cover illustration.
Novak EA, Sekar P, Xu H, Moon KH, Manne A, Wooten RM, Motaleb MA. The Borrelia burgdorferi CheY3 response regulator is essential for chemotaxis and completion of its natural infection cycle. Cell Microbiology. ePub May 20, 2016. PMID: 27206578.
Sultan S.Z, Sekar P, Zhao X, Manne A, Liu J, Wooten R.M, Motaleb M. A. Motor rotation is essential for the formation of the periplasmic flagellar ribbon, cellular morphology, and Borrelia burgdorferi persistence within Ixodes tick and murine hosts. Infection & Immunity. 83(5); 2015. PMID: 25690096
Zhao X, Zhang K, Boquoi T, Hu B, Motaleb MA, Miller KA, James ME, Charon NW, Manson MD, Norris SJ, Li C, Liu J. Cryoelectron tomography reveals the sequential assembly of bacterial flagella in Borrelia burgdorferi. Proc. Natl. Acad. Sci., USA. Aug 12, 2013. PMID: 23940315.
S. Z. Sultan, A. Manne, P. E. Stewart, A. Bestor, P. A. Rosa, N. W. Charon and M. A. Motaleb. Motility is crucial for the infectious life cycle of Borrelia burgdorferi. Infection & Immunity. 81:2012-2021, 2013. PMID: 23529620. Editors Spotlight article. Journal Cover illustration.
S. Sultan, J. Pitzer, T. Boquoi, G. Hobbs, M. Miller and M. Motaleb. Analysis of the HD-GYP domain phosphodiesterase reveals a role in motility and enzootic life cycle of Borrelia burgdorferi. Infection & Immunity. 79: 3273-3283, 2011. PMID: 21670168.
M. Motaleb, J. Pitzer, S. Sultan and J. Liu. A novel gene inactivation system reveals an altered periplasmic flagellar orientation in a Borrelia burgdorferi fliL mutant. Journal of Bacteriology. 193: 3324-3331, 2011. PMID: 21441522. Journal cover illustration.
S. Z. Sultan, J. E. Pitzer, M. R. Miller and M. A. Motaleb. Analysis of a Borrelia burgdorferi phosphodiesterase demonstrates a role for cyclic-di-GMP in motility and virulence. Molecular Microbiology. 77: 128-42, 2010. PMID: 20444101.
Y. Pazy, M. A. Motaleb, M. T. Guarnieri, N.W. Charon, R. Zhao and Silversmith, R. E. Identical phosphatase mechanisms achieved through distinct modes of binding phosphoprotein substrate. Proc. Natl. Acad. Sci. USA. 107: 1924-9, 2010. PMCID: PMC2836628.
C. Li, R.G. Bakker, M.A. Motaleb, M.L. Sartakova, F.C. Cabello and N.W. Charon. Asymmetrical flagellar rotation in Borrelia burgdorferi nonchemotactic mutants. Proc. Natl. Acad. Sci. USA. 99: 6169-74, 2002. PMCID: PMC122921.
---
View Dr. Motaleb's Bibliography
---
Staff