Akshaya K. Meher, PhD
---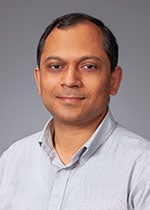 Assistant Professor
PhD,  Jawaharlal Nehru University, India
Phone: 252-744-2705
Fax: 252-744-3104
Email: mehera19@ecu.edu
---
Research
Our major goal is to understand immunopathogenesis and develop immunotherapeutics for vascular and metabolic diseases. One such disease studied in our laboratory is abdominal aortic aneurysm (AAA) which is identified by enlargement of the abdominal aorta. Except for invasive surgical interventions, no other treatment strategy is available to inhibit the growth or rupture of established AAA in patients. To develop a non-surgical treatment strategy, we have been studying the immunopathogenesis of AAA in humans and in experimental models of murine AAA. During AAA formation, matrix metalloproteinases in the aorta degrade aortic fibers and weaken the aortic wall. Neutrophils and B cells infiltrate the aorta during AAA formation and pharmacological depletion of either of the cell types attenuates inflammation, retains aortic structure, and protects mice from AAA. This suggests a critical role of neutrophil-B cell inflammatory crosstalk during AAA formation. We aim to elucidate the mechanism of the crosstalk and develop biologics that inhibit this crosstalk and attenuate inflammation and AAA formation. In this regard, we have reported that depletion of B cells protects mice from experimental AAA formation and promotes the emergence of an immunosuppressive environment in the aorta. Furthermore, we identified a novel role of IL-1b in NETosis (via C16-ceramide) and AAA formation.
B cell activating factor (BAFF/BLyS) is one of the factors involved in neutrophil-B cell crosstalk. BAFF is a TNF family member cytokine, and neutralization of BAFF protects mice from AAA. However, BAFF is a critical factor required for the survival of B cells, and neutralization of BAFF leads to the depletion of mature B cell subtypes. Using RNA sequencing, intracellular signaling, cellular bioenergetics, and flow cytometry techniques we reported that, apart from providing a survival signal, BAFF helps in the activation of B cells. In this line, we are developing novel biologics that inhibit BAFF-mediated B cell activation without affecting the survival of B cells.
Apart from AAA, we are investigating the pathogenic role of B cells and BAFF in type 1 diabetes and obesity-associated type 2 diabetes. To accomplish our goals, we are collaborating with laboratories within the Department of Microbiology and Immunology, Cardiovascular Sciences, East Carolina Diabetes and Obesity Institute, Department of Physiology, and Department of Chemistry at East Carolina University, and with the Cardiovascular Research Center and Carter Immunology Center in the University of Virginia.
---
Selected Publications
Lempicki MD, Paul S, Serbulea V, Upchurch CM, Sahu S, Gray JA, Ailawadi G, Garcia BL, McNamara CA, Leitinger N, Meher AK. BAFF antagonism via the BAFF receptor 3 binding site attenuates BAFF 60-mer-induced classical NF-κB signaling and metabolic reprogramming of B cells. Cell Immunol. 2022; 381:104603.
Spinosa MD, Montgomery WG, Lempicki M, Srikakulapu P, Johnsrude MJ, McNamara CA, Upchurch GR Jr, Ailawadi G, Leitinger N, Meher AK. B Cell-Activating Factor Antagonism Attenuates the Growth of Experimental Abdominal Aortic Aneurysm. Am J Pathol. 2021; 191(12):2231-2244.
*   Selected for the cover page of the journal
Senthivinayagam S, Serbulea V, Upchurch CM, Polanowska-Grabowska R, Mendu SK, Sahu S, Jayaguru P, Aylor KW, Chordia MD, Steinberg L, Oberholtzer N, Uchiyama S, Inada N, Lorenz UM, Harris TE, Keller SR, Meher AK, Kadl A, Desai BN, Kundu BK, Leitinger N. Adaptive thermogenesis in brown adipose tissue involves activation of pannexin-1 channels. Mol Metab. 2021; 44:101130.
Serbulea V, Upchurch CM, Schappe M, Voigt P, DeWeese DE, Desai BN, Meher AK, Leitinger N. Macrophage phenotype and bioenergetics are controlled by oxidized phospholipids identified in lean and obese adipose tissue. Proc Natl Acad Sci U S A. 2018;115: E6254-E6263
Meher AK*, Spinosa M, Davis JP, Pope N, Laubach VE, Su G, Serbulea V, Leitinger N, Ailawadi G, Upchurch GR Jr. Novel role of IL (Interleukin)-1β in neutrophil extracellular trap formation and abdominal aortic aneurysms. Arterioscler. Thromb. Vasc. Biol. 2018; 38:843-853.
*   Corresponding author
*   Highlighted as a news story in Nature Reviews Cardiology
Schaheen B, Downs EA, Serbulea V, Almenara CCP, Spinosa M, Su G, Zhao Y, Srikakulapu P, Butts C, McNamara CA, Leitinger N, Upchurch GR Jr, Ailawadi G*, Meher AK*. B cell depletion promotes aortic infiltration of immunosuppressive cells and is protective of experimental aortic aneurysm. Arterioscler Thromb Vasc Biol. 2016; 36:2191-2202.
*  Co-senior authors
Adamson SE, Meher AK, Chiu YH, Sandilos JK, Oberholtzer NP, Walker NN, Hargett SR, Seaman SA, Peirce-Cottler SM, Isakson BE, McNamara CA, Keller SR, Harris TE, Bayliss DA, Leitinger N. Pannexin 1 is required for full activation of insulin-stimulated glucose uptake in adipocytes. Mol Metab. 2015;4:610-8.
Meher AK, Johnston WF, Lu G, Pope N, Bhamidipati CM, Harmon D, Su G, Zhao Y, McNamara CA, Upchurch GR, Ailawadi G. B2 Cells Suppress Experimental Abdominal Aortic Aneurysms. The American Journal of Pathology. 2014;184:3130-41.
Bhamidipati CM, Whatling CA, Mehta GS, Meher AK, Hajzus V, Su G, Salmon M, Upchurch GR, Owens GK, Ailawadi G. 5-Lipoxygenase pathway signaling in experimental abdominal aortic aneurysms. Arterioscler. Thromb. Vasc. Biol. 2014;34:2669-78.
Johnston WF, Salmon M, Pope N, Meher AK, Su G, Stone ML, Lu G, Owens GK, Upchurch GR, Ailawadi G. Inhibition of IL-1β signaling decreases aneurysm formation in a novel model of thoracic aortic aneurysms. Circulation. 2014; 130:S51-9.
Meher AK, Sharma PR, Lira VA, Yamamoto M, Kensler TW, Yan Z, Leitinger N. Nrf2 deficiency protects mice from diet-induced adipose tissue inflammation and insulin resistance. Free Radic Biol Med. 2012; 52:1708.
Kadl A, Meher AK*, Sharma P, Lee MY, Doran AC, Elliott MR, Gruber F, Chen W, Kensler T, Ravichandran KS, Wamhoff BR, Leitinger N. Identification of a novel macrophage phenotype "Mox" that develops in response to atherogenic phospholipids via Nrf2. Circ Res. 2010; 107:737-46.
*   Co-first author
Heberlein KR, Straub AC, Best AK, Greyson MA, Looft-Wilson RC, Sharma PR, Meher A, Leitinger N, Isakson BE. Plasminogen activator inhibitor-1 regulates myoendothelial junction formation. Circ Res. 2010; 106:1092-102.
Meher AK, Blaber SI, Lee J, Honjo E, Kuroki R and Blaber M. Engineering an Improved Crystal Contact across a Solvent-Mediated Interface of Human Fibroblast Growth Factor-1, Acta Cryst. F. 2009; 65:1136-40.
Meher AK, Lella RK, Sharma C, Arora A. Analysis of complex formation and immune response of CFP-10 and ESAT-6 mutants. Vaccine. 2007; 25:6098-106.
Meher AK, Bal NC, Chary KV, Arora A. Mycobacterium tuberculosis H37Rv ESAT-6-CFP-10 complex formation confers thermodynamic and biochemical stability. FEBS J. 2006; 273:1445-62.
---
Staff