Michelle L. Ratliff
---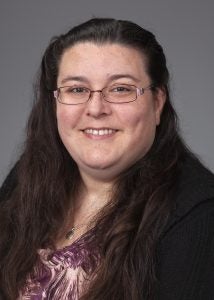 Assistant Professor
BS 2003, Illinois State University
MS 2005, Illinois State University
PhD 2013, University of Miami
Phone: 252-744-3127
Fax: 252-744-3104
Email: ratliffm19@ecu.edu
---
Research
Human hematopoiesis is a dynamic process requiring intricate regulation of multiple gene expression pathways involved in lineage commitment and resulting in the development of multiple blood cell types. Both murine and human studies have shown age-related defects in early hematopoiesis, as well as functional defects in aged mature immune cell populations, that result in decreased potential to mount protective immune responses. Defects in innate protection against pathogens, including Streptococcus pneumoniae and influenza, make it difficult to achieve good vaccination regimens in aging individuals. Understanding the mechanisms that control and regulate human hematopoiesis and innate responses in elderly versus young individuals is necessary to alleviate defects in immune responses. This understanding is particularly important as recent estimates project that nearly a quarter of the US population will be over the age of 65 by the year 2060.
Our primary research interest is in the age-related changes that occur in the hematopoietic progenitor cells, particularly in the hematopoietic stem cells (HSCs). While studies to date on HSCs in humans are limited, studies in murine models report age-related changes in epigenetics, miRNA expression, and transcriptional programs that could inform on changes that occur in humans that contribute to the functional defects in development and function of mature immune cells. Current studies are focused on investigating the function of the DNA-binding protein ARID3a in HSCs from young and aged donors. ARID3a is important for normal regulation of hematopoiesis in mice and in humans, particular B cell development, as well as innate immune responses. We have found that the frequencies of ARID3a-expressing HSCs are decreased in aged individuals compared to young. As B cells are an important part of immune responses to both vaccines and infections, understanding the changes that occur in HSCs that result in decreased production and function of B cells are necessary for identifying therapeutics that could improve immunological function in elderly individuals.
In addition to understanding the age-associated changes that occur in hematopoietic progenitors, we are also interested in the changes induced by chronic inflammation. Studies on the function of ARID3a in healthy people and lupus patients revealed an association of ARID3a expression with innate immune responses and inflammation in multiple cell types, including hematopoietic progenitor cells. Chronic inflammation is strongly implicated in the alterations in hematopoiesis, particularly in old age, making studies on determining which changes are associated with inflammation and which are intrinsic defects important. These studies will allow for identifying changes that are age-associated intrinsic defects and changes that are associated with extrinsic factors associated with an inflammatory microenvironment. These results will also be able to extend into other areas associated with chronic, systemic inflammation, including cancer, chronic infections, and autoimmune diseases such as rheumatoid arthritis.
---
Selected Publications
Ratliff ML, Garton J, Garman L, Barron MD, Georgescu C, White KA, Chakravarty E, Wren JD, Montgomery CG, James JA, Webb CF. ARID3a Gene Profiles are Strongly Associated with Human Interferon Alpha Production. J Autoimmunity. 2019 Jan; 96:158-167
Ratliff ML, Mishra M, Frank MB, Guthridge JM, and Webb CF. The Transcription Factor ARID3a is Important for In Vitro Differentiation of Human Hematopoietic Progenitors. J Immunol 2016 Jan 15;196(2):614-23
Ratliff M, Alter S, McAvoy K, Frasca D, Wright J, Zinkel S, Khan W, Blomberg BB, Riley, RR. In Aged mice, low surrogate light chain promotes pro-B-cell apoptotic resistance, compromises the PreBCR checkpoint, and favors generation of autoreactive, phosphorylcholine-specific B cells. Aging Cell. 2015 Jun;14(3):382-90.
Ratliff ML, Ward JM, Merrill JT, James JA, and Webb CF. 2015. Differential Expression of the Transcription Factor ARID3a in Lupus Patient Hematopoietic Progenitor Cells. J Immunol 2015 Feb 1;194(3):940-9
Ratliff ML, Templeton TD, Ward JM, and Webb CF. 2014. The Bright Side of Hematopoiesis: Regulatory Roles of ARID3a/Bright in Human and Mouse Hematopoiesis. Frontiers in immunology 5: 113.
Ratliff M, Alter S, Frasca D, Blomberg BB, Riley RL. In Senescence, Age-associated B cells (ABC) Secrete TNFα and Inhibit Growth of B cell Precursors. Aging Cell. 2013 Apr; 12(2):303-11.
Garton J, Barron MD, Ratliff ML, Webb CF. New Frontiers: ARID3a in SLE. Cells. 2019 Sep 24; 8(10).
Khomtchouk K, Alter S, Ratliff M, Riley RL. In Old BALB/c Mice, Bone Marrow Pre-B cell and Surrogate Light Chain Reduction is Associated with Increased B cell Reactivity to Phosphorylcholine, but Reduced T15 Idiotype Dominance. Mechanisms in ageing and development. 2017 March: 53-62.
Ward JM, Ratliff ML, Dozmorov MG, Wiley G, Guthridge JM, Gaffney PM, James JA, Webb CF. Expression and methylation data from SLE patient and healthy control blood samples subdivided with respect to ARID3a levels. Data in Brief. 2016 Dec 31;9:213-9.
Ward JM, Ratliff ML, Dozmorov MG, Wiley G, Guthridge JM, Gaffney PM, James JA, Webb CF. Human effector B lymphocytes express ARID3a and secrete interferon alpha. Journal of Autoimmunity. 2016 Dec, 75: 130-140.
Webb CF, Ratliff ML, Powell R, Wirsig-Wiechmann CR, Lakiza O, Obara T. A developmentally plastic adult mouse kidney cell line spontaneously generates multiple adult kidney structures. Biochem Biophys Res Commun. 2015 Aug 7;463(4):1334-40.
Frasca D, Romero M, Diaz A, Alter-Wolf S, Ratliff M, Landin AM, Riley RL, Blomberg BB. A molecular mechanism for TNF-α-mediated down-regulation of B cell responses. J Immunol. 2012 Jan 1; 188(1): 279-86.
O'Connor BP, Vogel LA, Zhang W, Loo W, Shnider D, Lind EF, Ratliff M, Noelle RJ, Erickson LD. Imprinting the fate of antigen-reactive B cells through the affinity of the B cell receptor. J Immunol. 2006 Dec 1;177(11):7723-32.
---
Staff
| | Name | Title | Location | Phone |
| --- | --- | --- | --- | --- |
| | Vacant | Research Specialist | Biotech 131 | 252-744-3365 |
| | Lowe, Sara | Doctoral Student | Biotech 131 | 252-744-3365 |