Brandon L. Garcia
---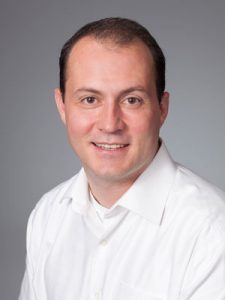 Assistant Professor
BS 2008, University of Missouri – Kansas City
PhD 2012, University of Missouri – Kansas City
Office: Biotechnologies Building Room 117
Phone: 252-744-3125
Email: garciabr18@ecu.edu
---
Research
Projects in our lab are centered on: i) broadening our knowledge of immune evasion mechanisms used by disease-causing bacteria, ii) and translating basic research of host-pathogen interactions into the development of novel therapeutics for controlling human autoimmune, inflammatory, infectious, and neurodegenerative diseases and conditions. Our research is focused on an ancient arm of the innate immune system known as complement. Pathogens which traffic in blood, must protect themselves from the destructive forces of the complement cascade. Recent studies from our lab have revealed that specific lipoproteins expressed by the causative agent of Lyme disease, Borrelia burgdorferi, potently inactivate the central zymogen complex of the classical pathway of complement.  We are using a multifaceted biophysical, biochemical, and structural biology approach to explore the molecular interface between the classical pathway of human complement and pathogenic spirochetes of the Borrelia genus. We hypothesize that Borrelia express multiple, functionally overlapping, classical pathway-targeting, complement evasion proteins which contribute the remarkable ability of these spirochetes to survive and persist in immunocompetent hosts.
Despite its critical function as a sentinel to invading pathogens, the aberrant activation of the complement cascade is a hallmark of many debilitating human diseases. The list of complement-related pathologies has grown to include several neurodegenerative diseases including Alzheimer's disease. Our lab is currently leveraging our work in the area of bacterial complement evasion proteins and our experience in identifying small molecule complement inhibitors to develop novel complement-targeted small molecule drug leads. We are using a combination of collaborative cheminformatics-based strategies, fragment based drug design principles, and novel screening methodologies to identify lead drug compounds which target potential complement therapeutic intervention points. These studies have established an experimental framework for the ongoing development of classical pathway-specific, first-in-class, small molecule complement inhibitors. Thus, our basic research into the molecular underpinnings of complement evasion by microbial pathogens has primed a parallel drug discovery effort with high potential value in the study and/or treatment of Alzheimer's disease and Alzheimer's disease-related dementias.
---
Selected Publications
Booth Jr. CE†, Powell-Pierce AD†, Skare JT*, Garcia BL*. Borrelia miyamotoi FbpA and FbpB are immunomodulatory outer surface lipoproteins with distinct structures and functions. Front Immunol., 2022, in press.
Pereira MJ, Wager B, Garrigues RJ, Gerlach E, Quinn JD, Dowdell AS, Osburne MS, Zuckert WR, Kraiczy P,  Garcia BL*, Leong JM*. A Lipoproteome screening of the Lyme disease agent identifies inhibitors of antibody-mediated complement killing. Proc Natl Acad Sci U S A. Mar 29;119(13):e2117770119. doi: 10.1073/pnas.2117770119. Epub 2022 Mar 21.
Garrigues RJ, Powell-Pierce AD, Hammel M, Skare JT*, Garcia BL*. A Structural Basis for Inhibition of the Complement Initiator Protease C1r by Lyme Disease Spirochetes. J Immunol. 2021 Dec 1;207(11):2856-2867. doi: 10.4049/jimmunol.2100815. Epub 2021 Nov 10. PubMed PMID: 34759015; PubMed Central PMCID: PMC8612984.
DeOca KB, Moorman CD, Garcia BL, Mannie MD. Low-Zone IL-2 Signaling: Fusion Proteins Containing Linked CD25 and IL-2 Domains Sustain Tolerogenic Vaccination in vivo and Promote Dominance of FOXP3+ Tregs in vitro. Front Immunol. 2020;11:541619. doi: 10.3389/fimmu.2020.541619. eCollection 2020. PubMed PMID: 33072087; PubMed Central PMCID: PMC7538601.
Rushing BR, Rohlik DL, Roy S, Skaff DA, Garcia BL. Targeting the Initiator Protease of the Classical Pathway of Complement Using Fragment-Based Drug Discovery. Molecules. 2020 Sep 3;25(17). doi: 10.3390/molecules25174016. PubMed PMID: 32899120.
Skare JT, Garcia BL. Complement Evasion by Lyme Disease Spirochetes. Trends Microbiol. 2020 May 29;. doi: 10.1016/j.tim.2020.05.004. [Epub ahead of print] Review. PubMed PMID: 32482556; NIHMSID:NIHMS1593174.
Pickering AC, Vitry P, Prystopiuk V, Garcia B, Hook M, Schoenebeck J, Geoghegan JA, Dufrêne YF, Fitzgerald JR. Host-specialized fibrinogen-binding by a bacterial surface protein promotes biofilm formation and innate immune evasion. PLoS Pathog. 2019 Jun 19;15(6):e1007816. doi: 10.1371/journal.ppat.1007816.

Xie J, Zhi H, Garrigues RJ, Keightley A, Garcia B.L.*, Skare JT*. Structural determination of the complement inhibitory domain of Borrelia burgdorferi BBK32 provides insight into classical pathway complement evasion by Lyme disease spirochetes. PLoS Pathog. 2019 Mar;15(3):e1007659. doi: 10.1371/journal.ppat.1007659. eCollection 2019 Mar. PubMed PMID: 30897158; PubMed Central PMCID: PMC6445466. *denotes equal contribution.
Eng L, Garcia B.L., Geisbrecht BV, Hanning A. Quantitative monitoring of two simultaneously binding species using Label-Enhanced surface plasmon resonance. Biochem Biophys Res Commun. 2018 Feb 26;497(1):133-138. doi: 10.1016/j.bbrc.2018.02.040. Epub 2018 Feb 7.
N.W.M. de Jong, K.X. Ramyar, F.E. Guerra, R. Nijland, C. Fèvre, J.M. Voyich, A.J. McCarthy, B.L. Garcia, K.P.M. van Kessel, J.A.G. van Strijp, B.V. Geisbrecht, and P.A. Haas. Immune evasion by a Staphylococcal Inhibitor 1 of Myeloperoxidase. Proc Natl Acad Sci U S A. 2017 Aug 14. pii: 201707032. doi: 10.1073/pnas.1707032114.
Garcia B.L., Skaff A.D., Chatterjee A., Walker J., Wyckoff G.J., Geisbrecht B.V. Identification of small molecule C3b-binding complement inhibitors using cheminformatics J. Immunol. 2017. May 1; 198(9): 3705-3718.
Garcia B.L., Zwarthoff SA, Rooijakkers SH, Geisbrecht BV. (2016) Novel Evasion Mechanisms of the Classical Complement Pathway. J Immunol. Sep 15;197(6):2051-60.
Liang X., Garcia B.L., Prabhakarana S., Moran O., Meenan N.A.G., Potts J.R., Humphries M.J., Visai L., Höök M. (2016) Allosteric Regulation of Fibronectin/α5β1 Interaction by Fibronectin-Binding MSCRAMMs. PLoS One. Jul 19;11(7):e0159118.
Garcia B.L.*, Zhi, H*, Wager, B, Höök M, Skare JT. (2016) Borrelia burgdorferi BBK32 inhibits the classical pathway by blocking activation of the C1 complement complex. PLoS Pathogens. Jan 25;12(1):e1005404. *denotes equal contribution.
Takahashi D., Garcia B.L., Kanost M.R. (2015) An initiating protease with modular domains interacts with b-glucan recognition protein to trigger innate immune response in insects.  Proc Natl Acad Sci U S A. Nov 10;112(45):13856-61.
Summers, B.J., Garcia, B.L., Woehl JL, Ramyar KX, Yao X, Geisbrecht, BV. (2015) Identification of Peptidic Inhibitors of the Alternative Complement Pathway Based on Staphyolococcus aureus SCIN Proteins. Mol. Immunol., Oct;67(2 Pt B):193-205.
Woehl JL, Stapels DA, Garcia B.L., Ramyar KX, Keightley A, Ruyken M, Syriga M, Sfyroera G, Weber AB, Zolkiewski M, Ricklin D, Lambris JD, Rooijakkers SH, Geisbrecht BV. (2014) The extracellular adherence protein from Staphylococcus aureus inhibits the classical and lectin pathways of complement by blocking formation of the C3 proconvertase. J. Immunol. Dec 15; 193(12):6161-71.
Garcia B.L., Summers B.J., Ramyar K.X., Tzekou A., Lin Z., Ricklin D., Lambris J.D., Laity J.H., Geisbrecht B.V. (2013) A Structurally Dynamic N-terminal Helix Is a Key Functional Determinant in Staphylococcal Complement Inhibitor (SCIN) Proteins. J Biol Chem. Jan 25;288(4):2870-81.
Garcia B.L., Summers B.J., Lin Z., Ramyar K.X., Ricklin D., Kamath D.V., Fu Z.Q., Lambris J.D., Geisbrecht B.V. (2012) Diversity in the C3b contact residues and tertiary structures of the staphylococcal complement inhibitor (SCIN) protein family. J Biol Chem. Jan 2;287(1):628-40.
Garcia B.L., Ramyar K.X., Ricklin D., Lambris J.D., Geisbrecht B.V. (2012). Advances in Understanding of the Structure, Function, and Mechanism of the SCIN and Efb Families of Staphylococcal Immune Evasion Proteins. Adv Exp Med Biol. 946:113-33.
Garcia, B.L., Ramyar, K.X., Tzekou, A., Ricklin, D., McWhorter, W.J., Lambris, J.D., and Geisbrecht, B.V. (2010) Molecular Basis for Complement Recognition and Inhibition Determined by Crystallographic Studies of the Staphylococcal Complement Inhibitor (SCIN) Bound to C3b and C3c. J. Mol. Biol. Sep 10;402(1):17-29.
Chen H., Ricklin D., Hammel M., Garcia B.L., McWhorter W.J., Sfyroera G., Wu Y.Q., Tzekou A., Li S., Geisbrecht B.V., Woods V.L. Jr, Lambris J.D. (2010) Allosteric inhibition of complement function by a staphylococcal immune evasion protein. Proc Natl Acad Sci Oct 12; 107(41):17621-6.
Garcia B.L., Tzekou A., Ramyar K.X., McWhorter W.J., Ricklin D., Lambris J.D., Geisbrecht B.V. (2009) Crystallization of human complement component C3b in the presence of a staphylococcal complement-inhibitor protein (SCIN). Acta Crystallogr Sect F Struct Biol Cryst Commun. May 1; 65(Pt 5): 482-5.
---
View Dr. Garcia's Bibliography
---
Staff